---
Unique destination in the heart of Europe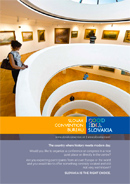 Slovakia, the unique country located in the middle of Europe. The perfect destination for meetings, incentives, congress and events combined with modern cities and their surroundings supported by the infrastructure, quality and service. Slovakia is the country where you have never been before. The people are warm and welcoming. The countryside is brimming with unspoiled natural beauty. You can trip over a multitude of outstanding cultural treasures and the food and drinks with influence of the Slovak, Hungarian, Austrian and Czech regional cuisines are out of this world. Take a (city) break. Bratislava is a compact city with several major hotels located in the historic Old City area.
Ten reasons why to come to Slovakia for MICE:
Stable and Safe Destination
Great location and easy to reach – good travel connection by air, train, road, boat
Scenery - unspoiled nature and beautiful landscape. Slovakia has 9 national parks, 14 protected landscape areas and more than 40% forested territory, 12 underground caves open to the public with magnificent ice or stalactite formations (remarkable Ochtinská aragonite cave, one of three such caves worldwide).
Bratislava – the city of past and present. Bratislava is the capital city of Slovakia and became one of the fastest growing new congress and conference cities in Europe in the last few years. Bratislava has an excellent location - close to the borders of Austria, Hungary and the Czech Republic. Very good access from two international airports – the Bratislava airport (15 minutes drive) and the Vienna airport (35 minutes drive along the motorway).
Cities & Towns – rich history and historical heritage from all periods. The historical cities and towns are spread all over Slovakia. Many of them have precious historical centres, 18 towns are listed as urban monument reserves. Historical cities and towns are suitable for teambuilding events and incentive tourism.
History, Culture & Heritage - 5 cultural and 2 natural sites on the UNESCO World Heritage List, 1 artefact of intangible cultural heritage - fujara (a traditional musical instrument), 180 castles and 559 chateaux and manor houses, 10 open-air museums of popular architecture, 45 little wooden churches of 3 types (Gothic, Evangelical and of the East Christian rite), some of them were built without using a single nail), numerous museums, galleries, technical relics.
Thermal water & spas - more than 1 400 mineral and thermal springs, many with healing properties and 22 spa resorts with complete medical care offering treatments based on mineral and thermal waters. Climatic spas in High Tatra mountains.
Active holiday – Slovakia has excellent conditions for spending active holidays in summer and in winter e.g. more than 40 well-equipped ski resorts with 7 five-star ski resorts, 12 golf resorts, marked cycling tracks, mountains suitable for hiking, trekking, mountaineering, river and lakes suitable for water sports.
Gastronomy, traditions and folklore - tasty traditional gastronomy and excellent wines. "Bryndza" stands for a traditional Slovak speciality made of sheep cheese. Within the European Union it can be produced only in Slovakia and it is distributed under the name "Slovenská bryndza". Distinctive living folklore and traditions differing according regions. Folk art and old crafts.
Busy cultural and social life, not limited to the capital city. You can get pampered at the Slovak spas. You can feel unforgettable adrenaline buzz in the mountains both in winter and summer. Marvel at the natural and cultural UNESCO world heritage sites; savour every mouthful of the countryside. Get the experience on the one of the upcoming events that will take place in two largest Slovak cities, which are Bratislava and Kosice, the Ice Hockey World Championships in May 2019.
Slovak Convention Bureau platform (SCB) promotes Slovakia as the MICE destination.